Wilkommen zu einer neuen Kategorie auf meinem Blog!
Einmal im Monat könnt ihr von einer Liste aus 5 Büchern abstimmen, welches Buch ich im nächsten Monat auf jeden Fall lesen muss. Jeden Monat gibt es ein bestimmtes Thema, zu dem ich 5 Bücher von meinem SuB aussuchen werde über die ihr dann abstimmen könnt.
Wenn ihr Lust habt, könnt ihr diese Aktion auch auf eure Blogs übernehmen
Im letzten Monat habe ich "Nur einen Horizont entfernt" von Lori Nelson Spielman gelesen.
Für den September habe ich mir folgendes Thema ausgesucht:
-Lies ein Buch, das dir die Haare zu Berge stehen lässt-
Da mein deutscher SuB für diese Liste nicht unbedingt viel bieten konnte, sind vier der Bücher auf Englisch. Schon beim Anblick der Cover läuft mir ein Schauer den Rücken runter! Ich freue mich schon :)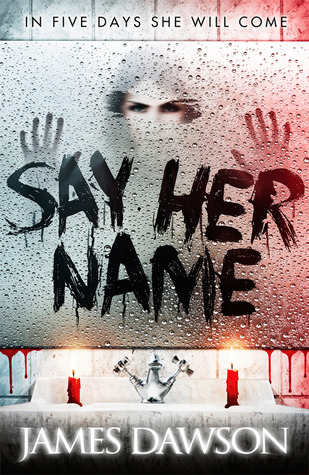 1. Say her name von James Dawson
Roberta 'Bobbie' Rowe is not the kind of person who believes in ghosts. A Halloween dare at her ridiculously spooky boarding school is no big deal, especially when her best friend Naya and cute local boy Caine agree to join in too. They are ordered to summon the legendary ghost of 'Bloody Mary': say her name five times in front of a candlelit mirror, and she shall appear... But, surprise surprise, nothing happens. Or does it?
Next morning, Bobbie finds a message on her bathroom mirror... five days... but what does it mean? And who left it there? Things get increasingly weird and more terrifying for Bobbie and Naya, until it becomes all too clear that Bloody Mary was indeed called from the afterlife that night, and she is definitely not a friendly ghost. Bobbie, Naya and Caine are now in a race against time before their five days are up and Mary comes for them, as she has come for countless others before...
2. Eisige Schwestern von S. K. Tremayne
Ein Jahr nachdem die sechsjährige Lydia durch einen tragischen Unfall ums Leben kam, sind ihre Eltern Sarah und Angus psychisch am Ende. Um neu anzufangen, ziehen sie zusammen mit Lydias Zwillingsschwester Kirstie auf eine atemberaubend schöne Privatinsel der schottischen Hebriden. Doch auch hier finden sie keine Ruhe. Kirstie behauptet steif und fest, sie sei in Wirklichkeit Lydia, die Eltern hätten den falschen Zwilling beerdigt. Bald hüllen Winternebel die Insel ein, Angus ist beruflich oft abwesend, und bei Sarah schleicht sich das unheimliche Gefühl ein, etwas stimme nicht. Zunehmend fragt sie sich, welches ihrer Mädchen lebt. Als ein heftiger Sturm aufzieht, sind Sarah und Kirstie komplett isoliert und den Geistern der Vergangenheit ausgeliefert.
3. Asylum von Madeleine Roux
For sixteen-year-old Dan Crawford, New Hampshire College Prep is more than a summer program—it's a lifeline. An outcast at his high school, Dan is excited to finally make some friends in his last summer before college. But when he arrives at the program, Dan learns that his dorm for the summer used to be a sanatorium, more commonly known as an asylum. And not just any asylum—a last resort for the criminally insane.
As Dan and his new friends, Abby and Jordan, explore the hidden recesses of their creepy summer home, they soon discover it's no coincidence that the three of them ended up here. Because the asylum holds the key to a terrifying past. And there are some secrets that refuse to stay buried.
Featuring found photos of unsettling history and real abandoned asylums and filled with chilling mystery and page-turning suspense, Madeleine Roux's teen debut, Asylum, is a horror story that treads the line between genius and insanity.
4. The Dead House von Dawn Kurtagich
Three students: dead.
Carly Johnson: vanished without a trace.

Two decades have passed since an inferno swept through Elmbridge High, claiming the lives of three teenagers and causing one student, Carly Johnson, to disappear. The main suspect: Kaitlyn, "the girl of nowhere."
Kaitlyn's diary, discovered in the ruins of Elmbridge High, reveals the thoughts of a disturbed mind. Its charred pages tell a sinister version of events that took place that tragic night, and the girl of nowhere is caught in the center of it all. But many claim Kaitlyn doesn't exist, and in a way, she doesn't - because she is the alter ego of Carly Johnson.
Carly gets the day. Kaitlyn has the night. It's during the night that a mystery surrounding the Dead House unravels and a dark, twisted magic ruins the lives of each student that dares touch it.
5. Bad girls don't die von Katie Alender
Alexis thought she led a typically dysfunctional high school existence. Dysfunctional like her parents' marriage; her doll-crazy twelve-year-old sister, Kasey; and even her own anti-social, anti-cheerleader attitude. When a family fight results in some tearful sisterly bonding, Alexis realizes that her life is creeping from dysfunction into danger. Kasey is acting stranger than ever: her blue eyes go green sometimes; she uses old-fashioned language; and she even loses track of chunks of time, claiming to know nothing about her strange behavior. Their old house is changing, too. Doors open and close by themselves; water boils on the unlit stove; and an unplugged air conditioner turns the house cold enough to see their breath in.
Alexis wants to think that it's all in her head, but soon, what she liked to think of as silly parlor tricks are becoming life-threatening--to her, her family, and to her budding relationship with the class president. Alexis knows she's the only person who can stop Kasey -- but what if that green-eyed girl isn't even Kasey anymore?


Wenn ihr Lust habt mitzumachen, postet einfach den Link zu eurem Post in die Kommentare!